Jung WooSeok is an idol and member of the 9-member South Korean Boy Group PENTAGON as the youngest member (Maknae), Model, Vocalist, and Rapper. The idol was chosen along with his current fellow members through MNET's competition show "Pentagon Maker", the group would soon make their debut on October 10th, 2016 underneath Cube Entertainment. 
Throughout his career, the idol would show off his various talents and skills in a variety of fields including his own personal interests to his fans (UNIVERSE). You might recognize him as the co-writer of Wanna One's 'Energetic' and UNIT REDS 'No Way' and appearing in Jeon SoYeon's 'Jelly' MV, to see his other producing and writing credits, click here. 
On April 3rd 2023, it was announced that Jung WooSeok would take over his fellow members (ShinWon of Pentagon's) EBS FM Radio Show "Night Radio".
According to an article featured on KSTATION TV as well as a variety of descriptions provided by EBS "Night Radio", the show is a late-night radio show with various music and stories, from other K-music stars and entertainers to critics to songwriters, the show offers a variety of content to listeners on a constant basis. Even music is chosen by WooSeok and sometimes even chosen by fans in the chat/comments. 
The show itself is available on the smartphone app 'Bandi' and the official YouTube Channel as listed below: "Night Radio". 
Due to the chance of numerous guests appearing on the show in different fields of the music and art world, there is always room for interesting conversations, music and art critics leave curiosity and spark questions. Some guests so far this year have included; 
For those interested in the South Korean Music Scene there is a variety of endless content in a variety of ways; live streams, online concerts, ad promotions (photoshoots, MD campaigns), and even radio show performances or music show performances. 
You might have heard different stars and idols refer to 'KBS'. It was officially established on July 1st 2003 and is considered to be a 24 hour schedule with numerous programs; news, sports, television dramas, entertainment and more. Offering these contents across South Korea and its provinces. According to this article by Public Media Alliance, they would also mention that KBS also holds 'EBS'. EBS itself stands for 'Korea Educational Broadcasting System', an organization that aims to inform, educate, engage and enlighten people for all walks of their lives.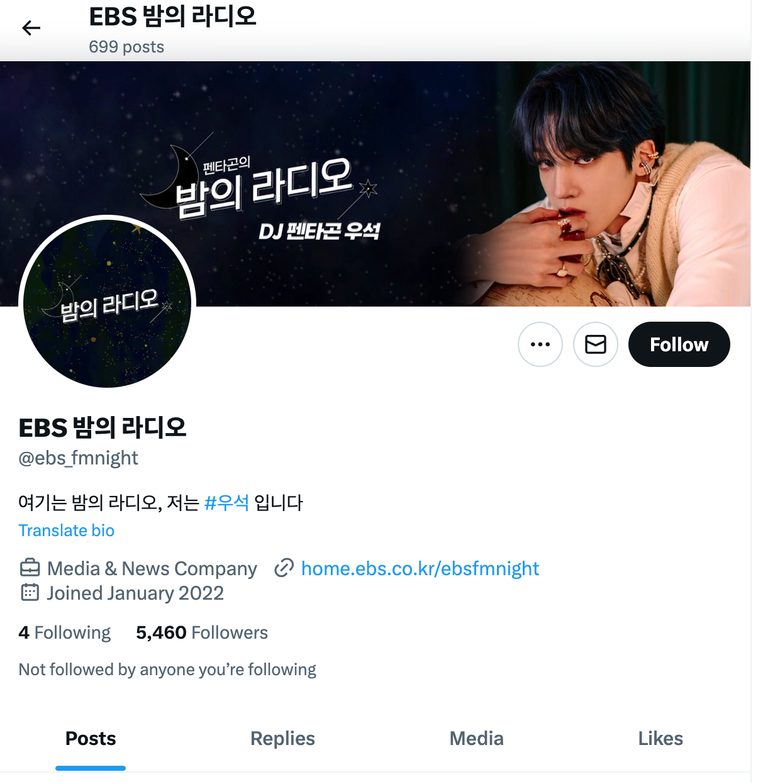 Jung WooSeok's radio show was hosted and initially created by the company EBS as stated across numerous SNS (Social Media Platforms). For those looking for late-night comfort, personally chosen music playlists by listeners and the DJ Woodi (WooSeok) in all genres and recommendations, EBS "Night Radio" is a definitely check out and should be added to your list! 
Don't forget to check out the latest PENTAGON and WooSeok's releases below! Do you have any other favorite radio shows? Consider sharing them in the comments. 
* Disclaimer: The articles by Fan Writers are unique and creative expressions that are independent from Kpopmap's opinions. We encourage diverse viewpoints and the freedom of expression from our fan community.